Meca500
Minimize footprint
Reduce tolerances
Facilitate robot arm integration
Benefit from flexibility
Description
Meca500 – Ultracompact six-axis robot arm
The Meca500, by Mecademic, is an ultracompact six-axis robot arm, a 'safe by design' industrial robot in the palm of your hand
Not only is the Meca500 more than twice as small as other small industrial robots, but its controller is embedded in its palm size base. Built with precision in mind, repeatability is 0.005mm
Automate tasks up to 0.5kg, reach radius of up to 260mm.
Frame weighs just 4.5kg (including the embedded controller).
Precise 6 Axis robot arm, with repeatability of 0.005mm.
Reliably automate micropositioning tasks and delicate manipulations thanks to unrivaled precision and accuracy.
No bulky controller cabinet, no teach pendant, no messy cables.
Make use of your confined space, the smallest footprint, ultracompact.
Easily integrate the Meca500 into existing production lines, thanks to the robot's simple communication protocol.
It's a plug and work automation component, offering great flexibility and simplicity.
Easy programming for engineers, no training courses to take, no software to install.
Typical applications for a Meca500
Inspection and testing
Material handling
Micro assembly
Precision insertion
Gluing and dispensing
Additive manufacturing
Also see our Collaborative Robot products
Specification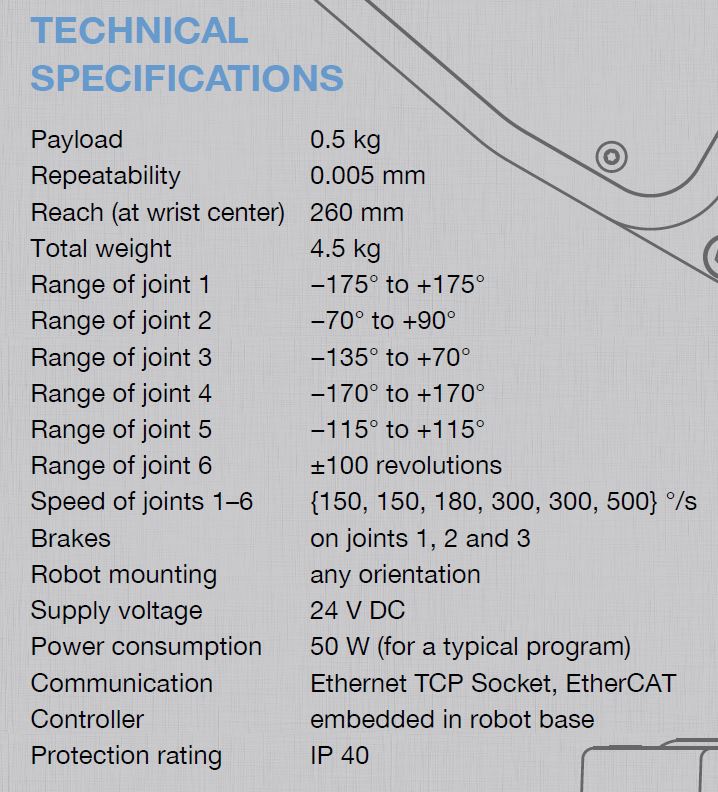 Video - Compact and precise
Video - High accuracy
Video - Maximise throughput automation