About Us
OVER 100 YEARS Industry Experience
About us
At Acrovision, we have a unique offering; we can supply everything from Product Supply, Replacement and Repair, to full Turnkey Installations. All of which are supported with comprehensive After-Sales and Maintenance Services. Our mission is to become the 'trusted adviser' to all our customers, in order to optimise the efficiency of their operations, while saving costs and maximising profits.
Automating your Business …
Our Automation division supports Barcode Readers, both hand-held and fixed-position, 1D and 2D, Barcode Printers, RFID (Radio Frequency Identification) Systems and Collaborative Robots.
It also specialises in the world of Direct Part Marking and Identification providing the ability to Mark, Verify and Read directly marked 'indestructible' barcodes for 'cradle to grave' traceability.
Our expertise covers stand-alone barcode readers / verifiers to in-line unattended scanners on automation equipment and conveyor systems.
Our RFID offering also offers both handheld and fixed position readers as well as full in-line conveyor / door Portal solutions.
… with Visionary Solutions
Our Vision Inspection Systems division offers a full range of solutions to Guide, Measure, Inspect or Identify an item with camera based equipment.
This could involve simple Vision Sensors for "presence / absence" applications, all the way up to new AI based "Deep Learning" Vision Systems.
In between we can propose Smart Cameras, PC Vision systems, 2D Profiling and 3D applications.
As well as bespoke designs we also have families of industry-specific solutions such as our Validator range on End-of-Line label and packaging inspection systems.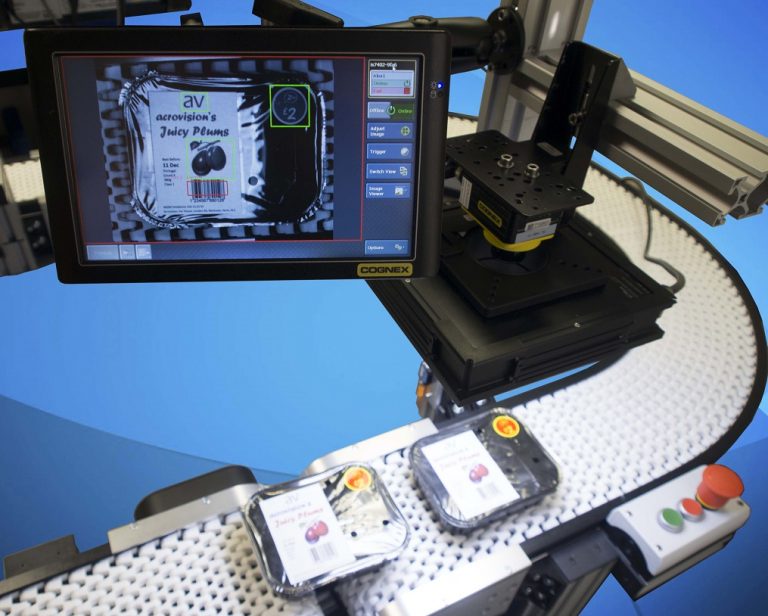 Application Support
For each application, our team of Engineers will carry out an evaluation which includes a report to determine the most robust and cost-effective solution. We are partners with the market leading hardware suppliers, we are able to offer both bespoke and off-the-shelf industry systems.
We then install and commission to our customer's requirements as well as offering ongoing support cover, training and documentation.
Market-leading Manufacturers
We are official partners of all the major market-leading manufacturers, adding value to their products. The Acrovision team are fully trained to offer the right product for the right application at the most competitive price, as well as being able to support our systems both pre and post sales.
The Complete Solution
Our ultimate goal is to offer support at the initial concept of a project and throughout the project's life cycle providing ongoing assistance wherever needed.